Charmer's Death
Temptation in Florence #2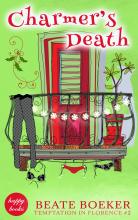 Everybody knows the Mantoni girls are attractive, and theoretically, that's a good thing, right? Only this time, a charming but older millionaire desires the most beautiful Mantoni, Annalisa, as his lover for the Christmas season. Her cousin, Carlina, is disgusted by the liaison and says she'd rather see him dead than at Annalisa's side.
The next day, her wish is fulfilled. The charmer is dead, strangled with a pair of pantyhose which comes straight from her own luxurious lingerie store, Temptation. Now she's got a problem. How can she explain to the attractive commissario, Stefano Garini, that she didn't do it? Will suspicion kill the fragile beginnings of a relationship between them? And will they find the killer before Christmas becomes too dangerous?
Charmer's Death is the second in the cozy mystery series Temptation in Florence.
reviews:
5 stars
Shake off the winter blues and head off on a virtual vacation to Florence, Italy. Carlina Ashley is the owner of a luxurious lingerie store in the center of Florence. She sells a unique kind of pantyhose that don't run. Pricey, yes, but what woman wouldn't kill for something like that? But in this book, it's a question of what person WOULD kill WITH something like that, because the hose become a murder weapon and everyone who has a connection to the shop (employees, Carlina's family and her customers) is suspect. Top of the list is the store's owner, Carlina herself, who is also in a good position to uncover a few clues on her own. Of course no mystery would be complete without a dashing Commissario to aid the amateur sleuth. Then add a family of crazy Italians and this book is three parts mystery to one part romance and then gently seasoned with a dash of humor. A great read.
Although this is the 2nd in the Temptation in Florence book, I accidentally read it first. I give the author props for doing a great job of introducing returning characters so I didn't feel like I was missing something.
Jayne Ormerod