Mischief in Italy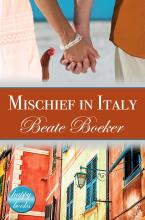 All Henry wants is a serious talk with his grown-up son Josh about the wrong women in Josh's life. However, the conversation immediately spins out of control and somehow, they reach a compromise that leaves Henry highly uncomfortable. Has he really promised to place a personal ad in a newspaper to have more fun in his life? And why on earth did he agree to put the words "house with pool at Lake Garda" into the ad? He doesn't want any gold diggers at his heels! To counteract the undeniable attraction of a villa in Italy, he comes up with an unusual concept for his ad, and from then on, mischief is running rampant in Italy.
This romance is supposed to be taken like an after-dinner-mint – a sense of freshness and sweetness will linger and stay with you when you've finished the last line.
reviews:
Fun! Pure fun – especially for the reader!
5 stars
What happens when a father and son challenge each other to change their lives? Fun. Pure fun – especially for the reader. Henry and his son, Josh, are both stuck in a rut and neither of them knows it. Yet, each can see that the other needs to make some changes. The result is the challenge mentioned and a merry dance of secrets and lies that had me laughing out loud at least once on every page. But there's more to Mischief in Italy than fun. The characters are drawn with light, deft strokes; the dialogue is spot-on; and the setting had me looking at the budget to see if an Italian holiday was in my near future. A bright, optimistic read that prompts the reader to follow their dream.
Sandy Cody
Like A Doris Day Movie With Added Attractions
5 stars
A very simple, predictable plot in a delightfully presented manner. Very enjoyed the book, its characters and brief twists. From one who loves just about everything Italian, this blended well to my lifestyle. Easy to read though I did expect to find Doris Day jumping from some of the pages. A fun read.
drbcabarete
Fun, Late-In-Life Romance!
5 stars
I read and thoroughly enjoyed this book by Beate Boeker! I'm a sucker for "late-in-life" romances :) But this is a timeless sort of romance about a couple finding love, hilarity, and an appreciation of family with all of the accompanying thorns and barbs! A fun, cute read!
A. Couch-Jareb
A Delightful Comedy, A Perfect Summer Read
5 stars
The book is a delight to read, a sophisticated comedy that has its roots in Bernard Shaw – but a revised, modern and up-to-date version, with the Internet as the means to bring together the most unlikely and often hilarious characters in a dream place on beautiful Lake Garda. It is also a well-constructed plot, with turns and twists, moving agilely from one point of view to the next, achieving thus unforgettable comic effects. Each character is given his own voice, the father, the son and the various ladies around them, not to mention a gay friend, all adding up to a thoroughly enjoyable mix.
This is the third book written by Beate Boeker that I read and it is the one I like best. She has really come into her own, this is the work of a mature writer who knows exactly how to describe her characters with a few strokes and maintain suspense. She will surprise you with the ending even if you knew all along that this was a "happy book" and that dramatic conclusions are off limit. Which is why this is the sort of book you should take with you on your next vacation or plan to read whenever you feel stressed…
Claude Nougat
Almost as good as a vacation
5 stars
Mischief In Italy is a light froth of a book, perfect for a relaxing summer (or winter!) read! The tangles – romantic and otherwise – the four main characters get themselves into are funny and yet so very understandable and believable. That said, this comedy has its roots firmly in classic farce, but with a distinctly contemporary twist. The settings are well drawn and brought back wonderful memories of my own trips to the regions. If I have a quibble with the book, it's that I would have loved to stay in that world for a much longer time! If you are looking for a light, enjoyable read, Mischief in Italy is for you!
Janis Susan May/Janis Patterson