Rent A Thief
- a contemporary romance -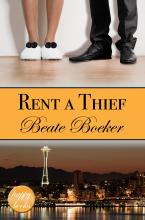 When Tina wakes to find a masked thief in her bedroom, she's shocked to discover she might be attracted to him, and now she's wondering if she's lost her mind. True, her plan to move to Seattle to be closer to her daughter and grandchild isn't working out as she liked, and she's lonelier than ever, but has she resorted to dangerous thrill-seeking? As Tina starts to dig up the secret history of the old mansion where she lives, she keeps seeing phantoms and wondering if she's in reality talking to "her thief". Soon, she realizes the thief stole nothing but her heart – but is he interested in her or in the priceless antique necklace she can lead him to?
reviews:
4 stars
Baby boomers can be fun and sexy and witty and this book proves it! The author, with consummate skill, presents us with a delightful grandmother, still a very attractive woman with a sentimental bend and a warm heart and of course, a very sexy, mysterious thief who enters her bedroom at night. All good fun, I highly recommend it if you're looking for a light read that will relax you and make you smile. This is not a book that touches on serious life and death issues, it has no pretensions to be a "literary" novel but then, why should it? As readers, we are happy it doesn't. The book is quite simply amusing, very much like its cover!
Claude Nougat
5 stars
I loved, loved, LOVED this story! An older heroine, a wonderful mystery, and a charming masked man. Albertine (Tina) wakes in the middle of the night to find a masked thief in her house. The two strike up an unusual friendship and so begins a story about art, jewelry, and family that is a true delight. It almost made me wish "Albert" would show up in my bedroom, but I'm betting my husband might not be as enthralled.
V. Ardito
5 stars
What I love about this author's romances is that—as a balance of romance and mystery—they are never predictable, and Rent-a-Theif is no exception. The premise is fun, and the characters make it a blast while being so genuine the reader can easily relate to the underlying issues. This book was particularly refreshing in that the heroine is slightly older than in your typical romance and this reflected in her perspective on life and love. The underlying mystery in this story makes it a great read for any age, and I found myself legitimately surprised by the ending revealed…and Beate pulls this off with all her usual charm! Well worth the $2.99 and then some.
Becca L.
5 stars
A thief breaks into your home and, in true Beate Boeker style, you take it in stride and strike up a conversation with the guy. What next?
Lots- including some whacky characters, a family crisis, a treasure hunt and a very tender love story that warms you down to your toes.
Ms. Boeker writes heart-warming stories with such fidelity to real life that you will think it might even happen to you. A great read. I will most definitely look for her other titles!
N. Barone
4 stars
Ms Boeker sets up an intriguing situation between a cat burglar and a mature heroine who manages to maintain her composure when being awakened by a prowler in her home. What is he looking for as he returns and she grows to look forward her nighttime visitor. A mystery adds to the plot, keeping things rolling right along to the surprising conclusion.
Lucy Dashwood
5 stars
Albertine has moved to Seattle to be closer to her newly divorced daughter and grandaughter, but nothing's working out. Her daughter is too busy to see her, much less talk to her, she knows no one, and she's widowed. When she awakes one night to find a masked man rummaging through her bedroom, she ends up having a civilized conversation with him. When he says he'll be back, she's not at all shocked or worried.
The thief is both unusual and sexy, and somehow he convinces Albertina to help him look for something valuable hidden in the renovation of the old house in which she lives. Convincing the other condo owners to help is funny and involves a wild cast of characters, both quirky and dangerous. Meanwhile, the thief continues to visit Albertina at night, progressing from flirtatious to kissing the widow. Life changes swiftly from then on, and Albertine changes, too. There's a sexy painter she admires, she cuts and colors her hair, she has a dinner date, and all the while, she butts heads with her daughter, who finally makes a confession that changes their relationship when Tina realizes what's really at the heart of their contretemps.
Not your typical romance by a long shot, TO RENT A THIEF has a heroine in her fifties who wears pom-pom slippers and has an affinity for lots of little flowers, from upholstery to china. You'll like her a lot, and root for her to de-mask the man who makes her toes curl.
Riterchick