Seaside Death
Temptation in Florence #5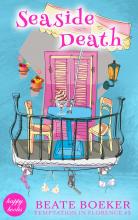 The Mantonis are going on vacation! Carlina & Stefano are looking forward to relaxing in Italy's Forte dei Marmi, the elegant seaside resort on the Ligurian Sea, but the holidays have hardly begun when their hotel manager is shot.
For once, Florentine policeman Stefano Garini isn't responsible for investigating the crime, but when the local police become convinced that Carlina's young cousin, Ernesto, is the killer, the Mantoni family is up in arms: Stefano has to clear Ernesto, and presto, please! Only Ernesto doesn't help at all, and things come to a climax when one of the Mantonis disappears without a trace . . .
Murder, mayhem, and Mantonis, mixed with some great summer feelings, turn this cozy mystery into stellar entertainment.
Seaside Death is the fifth in the series Temptation in Florence.
reviews:
5 stars
More Fun with the Mantonis
I've read all of the Temptation in Florence books and enjoyed them all. This time Carolina Mantoni invites her policeman boyfriend Stefano along on a family vacation – a brave move on her part – and, even braver, Stefano accepts. The family has hardly settled in when the obnoxious hotel manager is murdered. When Carlina's young cousin is accused of the crime, the family expects Stefano to prove him innocent, but the evidence against him is strong, so strong in fact that even Carolina has to wonder exactly what her cousin is up to. The characters are unique and impossible not to fall in love with; the setting is equally irresistible, and the story moves along at a fast pace. In short, this is the perfect book to read when you're fed up with the real world. It's good, light-hearted fun.
Sandy Cody
5 stars
Great series!
A perfect combination of murder, mystery, love, a slightly crazy family, all mixed into the magic of Florence! Loved this series, especially the charming police detective and the resourceful lingerie shop owner.
Nan Benincasa
5 stars
Beate Boeker creates a funny story set in Italy
If you've ever traveled with your extended family on vacation, you will appreciate the heroine's dilemma as she hopes to have some time alone with her boyfriend, a Florentine policeman. Beate Boeker creates a funny story set in Italy filled with an abundance of twists and turns. Seaside Death is a satisfying sweet read for the lover if romance and mystery.
Sarah Richmond